Sexuality (English old edition) – 01 Sexuality – part 1
Sexuality (English old edition) – 01 Sexuality – part 1
Sexuality – A short guide for dummies (English old edition) – 01 Sexuality – part 1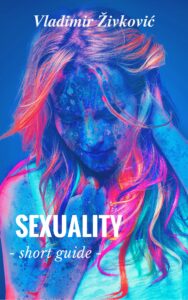 INTRODUCTION
This text is written to disperse misconceptions about human sexuality. As always, I advise people to check the legitimacy of the creation. Nothing is accidental, and no action is without the consequences. This text should help the reader realize that there is no coincidental happiness, but only deserved one. That also means that happiness related to sexuality can't be arbitrary. It is the result of a pure, innocent and human sexuality. Who doesn't believe such claims, my advice is to check for validity of this reading at least. Still, it's always better to live properly and humanely, than to check for errors, faults, and sin. The results of errors are always: the waste of time and misery.
That's the truth that modern man has forgotten. Even worse thing is that there are a few of those a man can learn from the laws of Universe, which are happening every second faultlessly.
And why is that so?
It's because a man feels lonely and lost in Space. It's time to change this situation.
Sexuality – A short guide for dummies
PERFECT AND POSITIVE
God is perfect and everything He creates is perfect. Therefore all created has perfection within itself and has a perfect purpose.
What does this mean?
Souls are at different developmental stages. Thus they inhabit different bodies. Therefore each being has perfection within itself while only his thoughts and actions can vary from the worst possible to best possible ones.
Still, even the worst deeds entail perfection because the outcome of these deeds would cleanse and lead to the goal. In this way, you have right to free will, but you don't have right to randomly change the outcomes of the actions.
From the secular point of view, God is the only one who is perfect and everything else is imperfect. Therefore, from the secular point of view, there are positive and negative actions. Positive actions results are mainly good while negative ones are insignificant.
It can be easily seen in the case of masturbation. If a person has no sex partner and wants to live its own sexuality, fairest solution is masturbation. While masturbating you may make two catastrophic mistakes which are not nearly bad as irresponsible sex relationships with other human beings. When it comes to masturbation, it is bad if you think about someone else's i.e. the person in the relationship. If you think about someone else's partner, then the consequences won't be good for you. Still, even in that state of desperation, if that other person that you are thinking about has clear mind and heart, it will be protected from your lecherous thoughts, so you will be the only one to suffer the consequences. Otherwise, the other person may be encouraged by your imagination, and he/she may have problems too. Still, I have to mention that events and problems that are the outcome of this case can't be desirable or positive, although many would like to think how can that be so, but not to happen in that manner. The other mistake is thinking about the single person. That is also wrong because that is an attack on another person's freedom and dignity.
So, when masturbating you have right to think about your partner or about an imaginary person if you need sexual gratification. Such doing, maybe isn't perfect, but it's very positive. That is because in such manner you achieve an extent of sexual gratification generally without doing much harm to anyone.
This could be explained by a straightforward example. The knife has a perfect purpose. One of them is to cut a slice of bread with it. If you cut yourself or others with a knife, then there is no slightest positivity in that let alone perfection.
A lesson is following:
Perfect acting brings happiness and true love. Positive acting brings self-satisfaction, the growth of love and joy.
Why do I say this?
In order not to be burdened by imaginary perfection; not to judge to self and others; not to commit sin by destructive sexuality as one thinks how fancy, able and modern he/she is.
Get Vladimir's free and paid eBooks and paperbacks on your favorite site: