TRANSIENCE OF LIFE
TRANSIENCE OF LIFE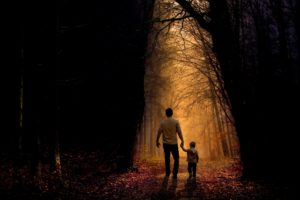 TRANSIENCE OF LIFE by Vladimir Živković
A man had a wonderful garden. The noble tree was growing in his garden. The tree grew large, it was rich with lots of branches, leaves, and fruits. It stood dignified in the middle of the garden, resisting all kinds of elements.
One day, a man was passing by the tree, and he saw a huge dead rat on the ground. He was disgusted, he got the chills, so he moved away from the tree. The whole wonderful garden was spoiled by the dead rat that makes him nauseated, and he lacked the strength to throw it out from the garden.
What does this story present?
This story is happening for many on the inner plane.
The garden in the story is a person's life. A beautiful tree with its fruits is what a person becomes due to life experiences and a person's wisdom. The dead rat is self-pity, man's misery, the sadness for the lost and what is behind. A man grieves for what he has lost, for what he hasn't achieved, and for all sins he did.
This means that man does not consider who has become, and what kind of person could he-she become, but he searches for fake and grieves over the damage he has made in the past. The attachment to the transience of life and self-pity don't allow a person to rejoice for oneself.
If a person from the story had the strength to take the dead rat and throw it out of the garden, he could rejoice in himself and in God, in his life, in all his wisdom and love.
When you have regrets about something, and when you carry your wounds and sins within yourself, then you have to be born again. You have to correct mistakes that you have made, and you have to cure injuries that you carry inside you. All of that stays within you and materializes itself in this, or in the next lives. Unfulfilled dreams that you haven't fulfilled in this life, and you will fulfill in some future life.
The message is the following:
Never rely on transient and fake things. Look at what you are. You are not the person from the past. You are neither the person from yesterday. Whenever you want, you will be the one that you are. If you think that you are pathetic, you will feel like that, even when the whole world is applauding.
The life is transient. It has to end. It is important who you become, not what you had, and how you lived. Some people have an unfortunate destiny, but their heart becomes cut like the most beautiful diamond. Some people live luxuriously and in joy, and in the end they leave this world with bitter, corrupt heart and bad karma.
How could you know that you have success in life?
Very simple- look into yourself. Look who you are, and what kind of person you are. If you are satisfied with you, and if there is lots of love, thankfulness, and happiness within you, and if God is your conscious and constant follower then you made it. Everything else is covering the truth, that certainly is not pleasant, as well as a dead rat in front of your nose and eyes is not pleasant.
Most simply said: don't turn your head away from weakness and negativity within oneself. Recognize them, get yourself free from them, and become satisfied with yourself and your life. That's all about spirituality.
Vladimir on AMAZON.com
Download Vladimir's books on Smashwords:
Preuzmi Vladimirove knjige na Smashwords:
Vladimir on AMAZON.com
Get Vladimir's free and paid eBooks and paperbacks on your favorite site: